The coat
Two clowns in their own special way, here tell the history about Akakij Akakijevitj and his amazing coat that disappeared.
In a coat, big as a house, where the clowns go sliding through the sleeves, we meet Akakij who loves his favorite letters,
the tailor Petrovitj with his huge spools of threads and the public officials that never waste a chanse to tease the poor Akakij,
and at last, but none the less, the very important person.
This is a play about loneliness, where the clown becomes the obvious image for the little man.
Director: Nola Rae and the group
Manuscript: Andrej Rodikov after Gogol
Choreography: Andrej Rodikov and Vladimir Mogilda
Design: Lis Hellström
In the parts: Lis Hellström and Andrej Rodikov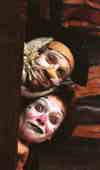 foto:
danilo
giannini
Gogols story The Coat has been described as the most influential of all russian stories. We have all crawled out of Gogols coat, said Dostojevskij about his story, a phrase that the clown takes literally... Gogols novel is a masterpiece on alienation, on the vulnerable individual, but also on the uncompromising hope. When Akakij Akakijevitj in a scene bursts out to his tormentors: but I am your brother, you can here see the outline drawing of the clown, the misunderstood figure that everyone laughes at but that reflects human exposure and love in its purest form.